Multi-unit Small units from 2,000 to 3,027 sq ft.
10,027 sq ft, (4) units, brick and wood exterior.
Small unit industrial is a good performing asset in economic downturns.
Stays fully occupied nearly all of the time due to high demand and low inventory of like product.
Very few, new small-bay building spaces (0-6,000 sq ft) have been created in the past 10 years.
The building was purchased with a projected net annualized return of 10.03%.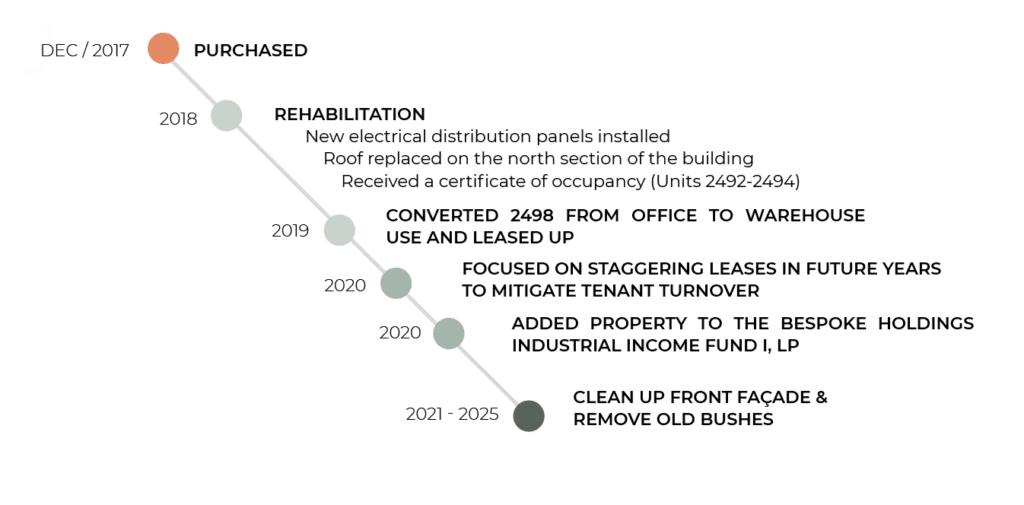 50% of the leases are up for renewal in 2020.
We will focus on staggering leases in future years to mitigate tenant turnover at the same time.
Another risk is tenant credit. We are trying to improve credit for each time a unit becomes available.
All work was completed within 1.5 months of purchasing the property.
Certificate of Occupancies have been awarded and the vacant units have been occupied.
The property is performing as expected with a forward weighted projected net annualized return of 10.07%.
If the property was sold after 3 years, the projected net annualized, non-levered return upon disposition would be 11.67%.
For more information about this or any of our other assets…